BETHEL UPDATES
COVID-19 TESTING UPDATE 5/1/20
COVID-19 HOME REMEDIES
Doctors are now reporting they understand the COVID-19 virus due to autopsies that have been performed. Some of the home remedies to help control the virus from infecting your lungs:

1. Drink lots of hot liquids - coffee, soups, teas, warm water. In addition, take a sip of warm water every 20 minutes to keep your mouth moist and wash any of the virus that has entered your mouth into your stomach where your gastric juices will neutralize it before it can get to your lungs.
2. Gargle with an antiseptic and warm water like vinegar and salt or lemon every day if possible.
3. The virus attaches itself to hair and clothes. Detergent or soap kills it, but you must take your bath or shower when you get in from the street. Avoid sitting down in your home and go straight to the shower. If you cannot wash your clothes daily, hang them in the sunlight which also helps to neutralize the virus.
4. Wash metallic surfaces like doorknobs and handles carefully and often.
5. DON'T SMOKE!
6. Wash your hands every 20 minutes, for 20 seconds.
7. Eat fruits and vegetables to increase your zinc levels.
8. Try to avoid getting the common flu, avoid drinking and eating cold things.
9. If you feel any discomfort in your throat or a sore throat coming on, attack it immediately with the above methods. The virus enters the system through the throat but will sit in the throat for 3-4 days before it enters the lungs.

Experts suggest doing this simple verification every morning. Breathe in deeply and hold your breath for 10 seconds. If this can be done without coughing or difficulty this shows that is is no fibrosis in the lungs, indicating the absence of infection. It is recommended to do this control every morning to detect infection.
As in the case with many African-American congregations in the South, the history and origins of Bethel Baptist Church of Morristown are inextricably linked to a Caucasian congregation. Although it is difficult to know precisely at what point the African-American Bethel Baptist was organized as a congregation, independent of the white "mother church", the latter was organized in 1803 by the Rev. Isaac Barton. This congregation was composed of members who had migrated to Morristown from East Hamblen County, specifically in Whitesburg, to distinguish itself from another congregation in another part of the county sharing the same name, the "mother church" soon called itself Bethel South (for "south" on the Holston River).
Ours is a living, dynamic faith in the person-Jesus Christ-God's Son and our saviour. As he is presented in the Holy Scriptures and as He continues to speak to us through the Holy Spirit, Jesus is the sole standard and authority for Christian belief and behavior. Though we have no formal "creed," we do have confessional statements about central beliefs.
Read more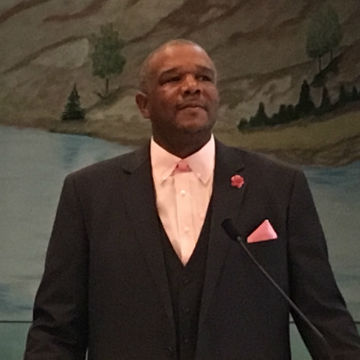 Senior Pastor: Clifton Jackson, Sr.